Movie One Hundred Ninety Eight

After getting a chance to revisit A Separation on a small screen, the film was less of a surprise but had more of an impact. Let me explain. A Separation is a film that is crafted in such a way that the viewer does not know all the details of plot. Those details are carefully laid out as the film progresses and each seemingly minuscule detail forms a hugely moving setting for each of the characters in some way. While the details of the plot were not a surprise a second time through the film, seeing the way the film is crafted gives me a tremendous appreciation for A Separation. The editing and writing is done in such a precise fashion that it's nothing short of remarkable that the film works at all, let alone works as well as it does. Details are implied, but not explained until later but this is not confusing, it's revelatory.

If you haven't seen A Separation yet, I really can't say it enough – Go see this movie. It is a perfectly crafted film with the kinds of touching human relationships that Hollywood can't seem to produce anymore.
Andy Watches Movies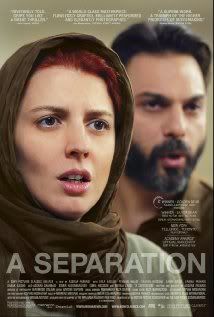 A Separation was definitely my favorite film of the entire festival and also instantly became one of my favorite films of all time. Michael Barker, from Sony Pictures Classic, introduced the film as "the perfect film" and it absolutely is. There is not a single scene that I would have removed and the actors were incredibly true to life. I had not seen it beforehand, but I will definitely be seeing it again.
On the surface, A Separation is a film about a couple going through a divorce. The film opens with Simin and Nader in front of a judge discussing why they should be allowed to get divorced. She wants to leave Iran, he needs to stay to take care of his ailing elderly father and is concerned about their preteen daughter's education. Simin helps hire a caretaker for Nader's father, and a series of events causes the woman…
View original post 464 more words